Birthday Party Quick-Start Kit
Grow your studio with fun and easy birthday parties!
SUPER CHARGE your referrals using fun & easy birthday parties! 
Give your raving fans an opportunity to not only REFER your fabulous studio, but also a fun opportunity to come in and experience your studio for themselves.
What's the secret to SUPER-CHARGING referrals? 
Bring in 3x the referrals, TWICE as fast using BIRTHDAY PARTIES!!
Think about what a birthday party really is...
Take away the balloons and cupcakes and what do you have left? 
Basically a big group trial class, right? 
When a birthday party is hosted by one of your current students, it's basically a big group trial class full of the very best potential new students: REFERRALS!
Plus, not only are you getting the opportunity to introduce lots of new students to your studio all at once, but you are getting PAID to do it!
Birthday parties are a win-win-win for everyone involved. It's fun for the birthday child to share their studio with their friends and family, parents love that they can actually relax and enjoy their child's birthday party, party guests get to be introduced to the joy of dance, and YOU get to make extra money when your studio would normally be sitting empty AND you're bringing in new students to your studio at the same time! 
You'd be CRAZY not to offer birthday parties at your studio!
This Birthday Party Quick-Start Package will get you quickly set up to start offering birthday parties at your studio ASAP.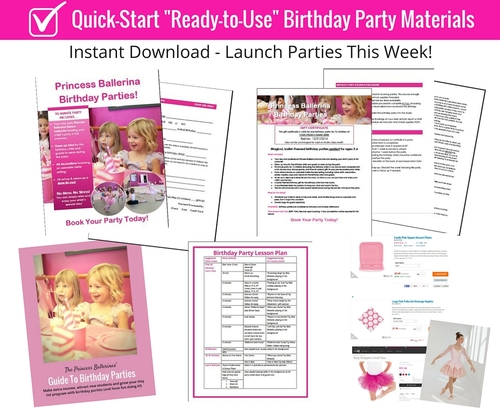 The Birthday Party Quick-Start Package Includes...
The Birthday Party Guide with all of the information from the email course so you can print out a hard copy to refer back to.
The birthday party lesson plan + ready-to-follow matching Spotify playlist. Just print and go!
A ready-to-use promotional flyer that you can email and mail to students with a birthday coming up, you can also post it in your lobby.
A ready-to-use informational flyer with all of the party details. Keep then in your lobby or have them ready for office staff to pass out when parents inquire.
A ready-to-use gift certificate flyer to donate to local schools and silent auctions. Print a bunch of these at the start of the year and they'll be ready to mail out quickly and easily when schools ask for donations for their fundraising events. 
Birthday Party written policies, procedures and checklists. This makes it SUPER easy to train and delegate birthday parties to staff but ensures you are getting quality and consistency. Even if you run parties yourself, the checklists make it easy to make sure you're not forgetting anything. 
Ready to print-and-use party reservation form.
A ready-to-use Facebook image to quickly let parents know about your parties. The image is great for boosting posts and running ads too. 
Photos and links to suggested supplies that I suggest for parties (cups, plates, teacher costumes, dress-up tutus, and gifts). Major time saver! 
Plus, included are some easy bonus tips for getting your families excited about your new (or improved) parties! I share the EXACT strategy I used to start booking parties quickly AND it's how I got a bunch of photos and video footage for my new parties. 
All materials are available as instant downloads immediately following your purchase so you can get started right away!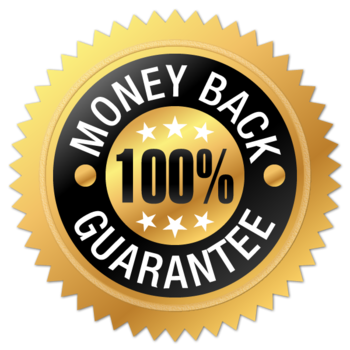 30-Day Money Back Guarantee: If you find that the materials are not going to be a good fit for you, simply email me within 30 days of purchase for a full refund.