Done-For You Themed Lesson Plans For Your Tiny Tots.
Designed For The Busy (But Passionate) Dance Teacher!
Studio Owners & Dance Teachers:
Do you have a passion for teaching dance?
Imagine being able to focus all of your energy and passion 100% on what you do best, teach AMAZING dance classes.
Can you imagine the impact that focus would have on the lives of your students and the success of your studio?
Introducing the Princess Ballerinas® Ready-To-Use Lesson Plan Kits…
Just Download and Dance!
Watch this short video for a demonstration:
Running a Studio Can Be A Tough Job!
As teachers and studio owners we wear many hats and have many responsibilities. 
Writing a syllabus is difficult and time consuming.

Coming up with fresh ideas month after month, session after session is difficult.

Educating parents on the long-term value of their child's lessons is difficult.

Keeping students engaged is difficult.
 So, what's the solution? 
You doing what you do best is the key to your studio's success.
Let's think back to why you decided to start teaching dance? Was it to do administrative work, train staff, write lesson plans? If so, then by all means do that! But my guess is that you went into teaching to share your knowledge and passion for dance with the next generation.

You are the key to unlocking your studio's and student's potential.
By being SMART about where you focus your energy. You can't do it all. Focus on your greatest strength: Teaching and impacting lives.

By using tools that save you time, support your goals and free you up to focus 100% on teaching AMAZING classes for your students. 
Sure, you could create your own themes, lessons, playlists,sticker charts, coloring pages, and certificates.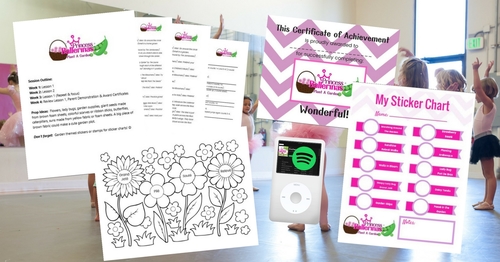 No doubt you are capable.
But look at the time investment you would need to make each and every month.
Thinking up and planning a monthly theme: 2 hours

Creating 4-5 monthly lesson plans: 20 hours

Sifting through hundreds of music files searching for theme related music to match each lesson: 20 hours

Selecting music for and choreographing a thematic routine: 4 hours

Creating student resources like coloring pages, sticker charts, certificates of achievement= 12 hours

Creating a branded logo to represent the marketing for each theme: 8 hours
=  60 hours / 4 weeks per month = 15 hours per week on average invested into creating lesson plans like this from scratch!
Why not benefit from using an existing program that's been proven to work and most importantly is already done for you so you can simply download and 
DANCE

!
Themed Lesson Plans
Share your passion for dance with the next generation by taking your students on an imaginary dance adventure each month with unique themed lesson plans! 
Matching Student Materials
Elevate your classroom experience by providing a unique and personal experience for each and every student!
The Fun & Easy Way
Get back to focusing on the JOY of teaching dance by decreasing your workload so you and your staff can focus on what you do best... teaching AMAZING classes that inspire!
The Princess Ballerinas® Membership For Dance Teachers & Studios:
The Princess Ballerinas Dance Program is offered on a monthly membership basis for dance teachers & dance studios. 
What's Included?
Each month you'll receive a new done-for-you themed lesson plan kit.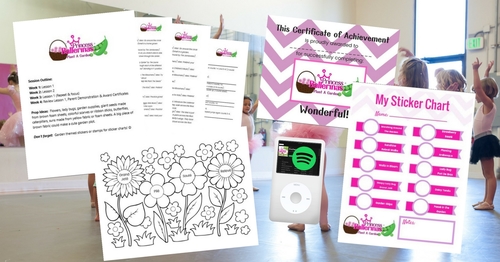 Each themed lesson plan kit includes…
A theme + themed logo
Two themed lesson plans
Two matching Spotify playlists (plus a list of songs and artists if you're not a Spotify user). 
Suggesting for easy themed prop ideas
Matching coloring page
Matching sticker chart
Matching award certificate
The materials are appropriate for beginning-level dancers ages 3-5 and 6-8 years. 
What Does It Cost?
The Princess Ballerinas Membership is just $1 for your first month's membership (includes your first themed lesson plan kit).
After your first month, membership is $57 per month and includes a fun and fresh themed lesson plan kit sent to your inbox each month. 
There are no contracts, you can cancel at any time.
Plus, at the ongoing rate of $57/month most studio owners find that they are able to cover the on-going cost of membership with the tuition of just ONE student.
The Princess Ballerinas Dance Program truly is "affordable luxury" for passionate dance studio owners everywhere.
Remember, there are no contracts. You can cancel your membership at any time if you find that The Princess Ballerinas Dance Program isn't a good fit for you or your studio. However, of course, be prepared to love it as many long-time Princess Ballerinas studio members have.
Get a free sample of the "Bake Shop" lesson plan theme. 
Just enter your details for instant access. 
"WOW!! What a great tool for teaching. Thanks so much!"
Cythnia
Studio Owner
"Just wanted to let you know that one of my new Princess Ballerinas classes is already completely FULL - and I don't start classes for another month and don't have my open house until this weekend, which is when usually an influx start to come in. I am excited to start this new program :)I think I will reach my 300 student goal this year!"
Cameron
Studio Owner
"Megan I can't thank you enough!!! Since starting this new program we have already gotten 5 new students in two days!!! "
Kirsten
Studio Owner
Why Use The Princess Ballerinas Dance Program?
It's been proven to "WOW" students and parents a like. Become the "go to" studio for young children in your community. 

It's EASY! Zero time or effort involved. Download and Dance.

Save countless hours planning and organizing. 

Educate your studio parents on what their child is learning in class each month. 

Improve student retention for your tiny tots program.

Improve new student attraction of tiny tots.

Keeps students excited all year long.

No contracts, cancel at any time.

Affordable for studios of any size. Perfect for existing studios and brand new programs. 
Get a free sample of the "Bake Shop" lesson plan theme. 
Just enter your details for instant access. 
"From one dance teacher from another I thank you! Your ideas are great! "
Kamilah
Dance Teacher
"I really enjoyed everything about it. It's easy to follow, LOVE that you have suggested songs, and your lessons keeps the kids moving! It was especially helpful for me this month as I have been very busy and planning has been difficult! Your lesson plan has probably saved me at least 2 hours of planning . A fellow teacher sent me the information and it was perfect! "
Kelly
Studio Owner
"My students THINK they are playing! They don't realize how much they're actually learning. That's what I love most about it. It makes class fun for EVERYONE!"
Sharon
Dance Teacher
Frequently Asked Questions
What's the cost of the Princess Ballerinas Membership?
The Princess Ballerinas Membership is just $1 for your first month's membership (includes your first themed lesson plan kit).
After your first month, membership is $57 per month and includes a fun and fresh themed lesson plan kit sent to your inbox each month. 
What's your cancellation policy?
There are no contracts for the monthly membership after the first month, you can cancel any time yourself through your account online or simply email to me at megan@princessballerinas.com.
Will I be locked into a contract?
There are no contracts for Princess Ballerinas Members. You can cancel at any time for any reason after your first month. 
Do I have to use the Princess Ballerinas name or logos?
No, while the name and logo have been proven to be part of what helps maximize attraction of parents of 3-5 year old girls into hundreds of studios around the world, if you prefer to use your own program name and logo you can. You'll even receive a blank version of each themed logo that you can customize if you wish, and you'll also be able to customize the student materials like the sticker chart and certificate with your own logo. 
For example:
My classes are tap/ballet combo... will this work for me?
Yes, you'll receive two versions of each themed lesson plan each month. One is a pdf file for those who want to view/print "as is" (the fastest and easiest version), but you'll also get an editable version of the lesson plans and skill charts where you can easily swap in tap or tumbling skills if you prefer. 
Alternatively, many studios have success with offering the Princess Ballerinas experience "as is" and then offering an additional 30-minute tap or tumbling class as an additional add-on class for your families. This can be a great way to maximize profits. 
Do I have to use Spotify?
No, the lesson plans also list out each song and artist in the playlist if you prefer to use another music service like iTunes, for example. 
Alternatively, the themed lesson plans can work really well with any classical/instrumental music if you prefer. 
What skills are taught in the Princess Ballerinas Dance Program?
The Princess Ballerinas dance program has been created using a rotating curriculum model with basic ballet/creative movement skills. A rotating curriculum ensures you're covering all skills equally throughout the year, and it also allows you to be able to add new students any month of the year since the curriculum will cycle through the same skills several times during the year. 
This curriculum model also provides the ideal balance of repetition (to help students learn) and variety (to keep it fresh and fun) during the year. 
Here is a sample of the 4 skills blocks that the themed lesson plans will rotate through during the year. Note: Keep in mind, the lesson plans are editable in case you want to customize your lesson plans. 
What ages are the lesson plans geared toward?
Princess Ballerinas lesson plans were specifically designed to best serve girls between 3-5 years old. 
However, the lesson plans have been successfully used with students slightly younger (we recommend shortening the class to 30 minutes and skipping the choreography portion of class). 
The program can also serve students who are slightly older, in the 6-7 year old age range. In this case, the lesson plans can be used as intended, you'll just be able to go into a little more technical detail on the skills since the students are older. 
How long of a class are the lesson plans for?
The lesson plans include more than enough material for a 45-60 minute weekly dance class. 
What about boys?
Princess Ballerinas was designed specifically designed to attract and retain the most valuable students in most studios- girls between 3-5 years old. 
That being said, studio owners often find themselves getting occasional phone calls for boys (which is GREAT!). 
Take away the pink and purple color scheme and "Princess Ballerinas" logo and the themed dance class experience is actually quite gender neutral. Boys will enjoy dancing in a winter wonderland or through a candy land adventure as much as any little girl would. 
Plus, as a bonus tool, you'll also receive a blank, boy's version of the sticker chart and award certificate that you can use to accommodate the occasional male student (if you prefer it to the pink/purple version). 
When is the best time to start Princess Ballerinas?
Yesterday! :) 
But since we can't go back in time, NOW is the best time to get started. 
If you already offer classes for 3-5 year old girls, everyday you're NOT keeping them excited and engaged you risk losing students. Remember, the loss of just ONE student means a loss of $75+ per month now, a loss of $750-$1000 this year and potentially a loss of over $10,000 over the lifetime of that student (not to mention the chance to make a positive impact in that child's life through dance). 
If you're starting a new studio or want to grow your existing program, NOW, is still the best time to get started. 
One of the benefits of the 3-5 year old market is that you can start a new program or attract new students any month of the year. That's because the enrollment of this age group is more closely tied to when they turn 3 or 4 or 5 and NOT the school year (which is the case with older children). 
Your future students are having their 3rd, 4th or 5th birthday party THIS MONTH (and every month of the year obviously). Which means there are families of 3-5 year old girls actively and excitedly seeking out dance classes RIGHT NOW for their child who's just now ready for dance. 
The longer you wait to get started, the more you risk missing out on those opportunities TODAY and TOMORROW and every day you wait to get started. 
What if I have other questions?