Princess Ballerinas Membership
 Studio Owners: Who Else Wants To Grow Your Studio the Fun & Easy Way? 
As a long-time studio owner and passionate dance teacher just like you. I'd love to introduce to you...
The Princess Ballerinas Dance Program
My completely done-for-you preschool dance program that I'd LOVE to share with you to help you grow your studio the fun & easy way!
Check out this short video for a quick demonstration:
Do you want to GROW your studio?
The foundation of a successful studio is a thriving preschool dance program. That's because, as the studio saying goes.. "the place they start is the place they stay".
The studios with the largest preschool dance programs have an unfair advantage because they essentially have their own built in "feeder program" of students who will enroll in their upper-level programs as they graduate from the preschool program.
The Princess Ballerinas Dance Program is a complete plug-n-play dance program that will allow you to instantly add a proven and highly successful preschool dance program to your studio right away, without having to spend years developing your own from scratch.
"I absolutely love the Princess Ballerinas program and I am so happy you decided to share it with us. Last year this time we had 154 students and today we have 231. That is exactly 50% increase!" Studio Owner- Angie
With Princess Ballerinas, you can get that same "unfair advantage" by having your own built-in feeder program that your studio will benefit from for many years to come.  

Do you want to INCREASE your studio's profits?
Besides being the foundation of a successful studio, did you know that preschool dance classes are typically the most profitable programs in a studio?
That's right!
Even though your competition students or company members might be paying more per month. They are often paying a small FRACTION of what a preschool family pays on a class or hourly basis.
Take a look at this quick example:
Typical advanced level program: 
15 students attending 8 classes per week, paying $250/month.

Per class profit: $117.18/hour

Typical preschool program: 
15 students attend ONE class per week paying $75/month.

Per class profit: $281.25/hour

The preschool program is making 240% MORE per hour!! 
Note: This is not to say that upper level programs don't have a place in the studio mix, of course they do, but the point is that many times it's the preschool dance programs that are the most profitable programs within a studio.

Increased Student Retention = Increased Profits
Besides being able to help you grow the most profitable part of your studio, Princess Ballerinas studios also find that they're able to retain students longer because of the unique theme based lesson plans that keep students (and their parents) excited for class month after month, all the way to recital and beyond!
No more hearing, "She's bored. We're going to take a break and try gymnastics for a while".
Did you know one of the fastest and easiest ways to grow your studio's profits is to simply keep your students enrolled longer? Even small improvements in retention can have a BIG impact on your bottom line.
"We had a pre-ballet program last year with only 3 students. Since starting Princess Ballerinas in August 2016, we now have 28 students in the program and are looking to expand to a younger age group next year [...] We LOVE using Princess Ballerinas and can't wait to see the growth in this program this next year!" Studio Owner, Amy
Better Experience = Increased Profits
Studio owners also find that they're able to charge a premium tuition rate for the unique Princess Ballerinas "experience" because with Princess Ballerinas you're providing so much more than an average, run-of-the-mill dance class.
Princess Ballerinas classes take students on a "dance adventure" each month with a thematic lesson plan, matching themed music, and lots of fun imagination.
Plus, Princess Ballerinas students receive VIP treatment with fun bonuses like matching coloring pages, sticker charts and award certificates each month.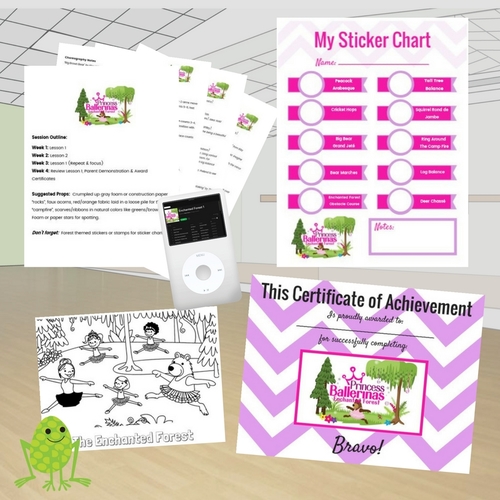 These "extra" touches, packaging and branding make the Princess Ballerinas Dance Program highly marketable to moms of budding ballerinas in the 3-6 year old age range. In fact, many studio owners find that the program practically sells itself and that all they have to do is offer a trial class and show prospective parents the bonus materials and they are sold!
"I can't thank you enough!!! Since starting this new program we have already gotten 5 new students in two days!!!" Studio Owner, Kirsten
Imagine that! A program that practically sells itself so that you don't have to do any "selling" at all… all you have to do is extend an invitation to try it out and let the Princess Ballerinas experience take care of the rest!
Let's Make It Fun & Easy...
The best part of the Princess Ballerinas Dance Program is that all the work has already been done for you!
Each month you'll receive a complete done-for-you lesson plan kit right in your inbox. All you have to do is download and dance!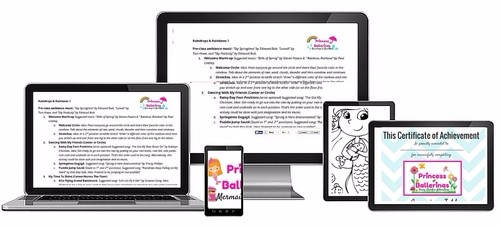 "Thanks for all the amazing curriculum and leg work "done-for-you"! It's so great to have ONE thing that I don't have to create from scratch but is exactly the standard of what I would do if I did do it from scratch." Studio Owner, Amy
The Princess Ballerinas Membership For Studio Owners.
The Princess Ballerinas Dance Program is offered on a monthly membership basis for dance studio owners.
What's Included?
Each month you'll receive a new done-for-you lesson plan kit.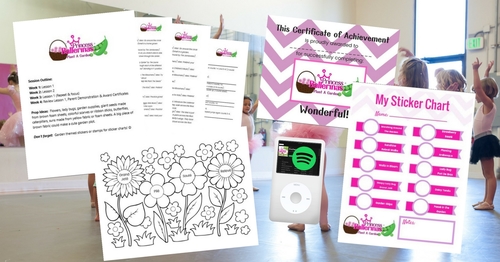 Each themed lesson plan kit includes…
A theme + themed logo
Two themed lesson plans
Two matching Spotify playlists
Suggesting for easy themed prop ideas
Matching coloring page
Matching sticker chart
Matching award certificate
What Does It Cost?
Even though the Princess Ballerinas Dance Program has the potential to add thousands of dollars in increased profits to your studio, the Princess Ballerinas Membership is only $57 per month. There are no contracts, you can cancel at any time.
Most studio owners find that they are able to cover the ongoing cost of membership with the tuition of just ONE student.
The Princess Ballerinas Dance Program truly is "affordable luxury" for dance studio owners everywhere.
Remember, there are no contracts. You can cancel your membership at any time if you find that The Princess Ballerinas Dance Program isn't a good fit for you or your studio. However, of course, be prepared to love it and find tremendous success using the program as many long-time Princess Ballerinas members have.
Pricing options