The Princess Ballerinas® Membership For Dance Teachers & Studios:
The Princess Ballerinas Dance Program is offered on a monthly subscription basis for dance teachers & dance studios. 
What's Included?
Each month you'll receive a new done-for-you themed lesson plan kit.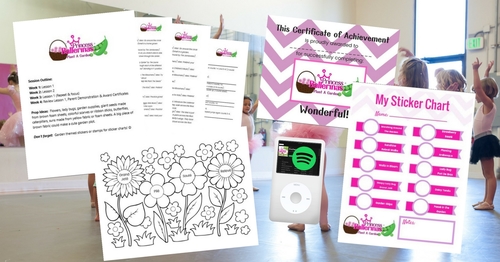 Each themed lesson plan kit includes…
A theme + themed logo
Two themed lesson plans
Two matching Spotify playlists (plus a list of songs and artists if you're not a Spotify user). 
Suggesting for easy themed prop ideas
Matching coloring page
Matching sticker chart
Matching award certificate
The materials are appropriate for beginning-level dancers ages 3-5 and 6-8 years. 
What Does It Cost?
The Princess Ballerinas Membership is only $57 per month. There are no contracts, you can cancel at any time.
Best of all, you can take the Princess Ballerinas Dance Program for a 30-day "test drive" for just $1.
Plus, at only $57/month most studio owners find that they are able to cover the on-going cost of membership with the tuition of just one student typically.
The Princess Ballerinas Dance Program truly is "affordable luxury" for passionate dance studio owners everywhere.
Remember, there are no contracts. You can cancel your membership at any time if you find that The Princess Ballerinas Dance Program isn't a good fit for you or your studio, even before your $1 first month trial is over. However, of course, be prepared to love it as many long-time Princess Ballerinas members have.